This is part four of a five-part series. Read Part 1, Part 2, and Part 3.
We're going to tell ourselves that we'll be able to maintain most of our freedom and choice.
Again, it's important to understand that by taking government funds, even an ESA, you will no longer be schooling independently from the government. The New York Times called education savings accounts a "redefinition of public education."[1] Once you take ESA funds, you have crossed the line between independently homeschooling your children, and putting them into government education.
Already, homeschool co-ops do not usually accept any students who are attending online public schools. Since taking ESA funds could be considered having crossed that line into public school, you could be unable to participate in a homeschool co-op.
Let's use Nevada as an example here. Homeschooling families who take ESA funds might first have to enroll their child in public school. Nevada implemented ESA funds with requirements including the following: students must first be enrolled in public school for at least 100 days.[2] This requirement on its own would prevent many families from taking ESA funds .[3]
Then there are the required standardized tests – to remain qualified for ESA funds in Nevada, every student must be tested annually to demonstrate satisfactory academic progress. Eventually, what will happen to your child if he or she doesn't make "satisfactory" academic progress? Remember that Nevada's ESA program is administered by the Nevada State Treasurer's Office, presumably someone from that office is supposed to determine whether or not your child's progress was "satisfactory."
You can't just take ESA funding in Nevada and start spending it on homeschooling, either, not without registering and qualifying first. Homeschooling parents have to apply and be approved by the state as a "Participating Entity" in order to continue to teach their own children. For time immemorial parents have been assumed to be qualified to teach their children. But not if you take government funds.
Remember that funds can only be spent on certain items. Expenditures are subject to a yearly audit in Nevada. What's a five letter word that everyone dreads? Audit.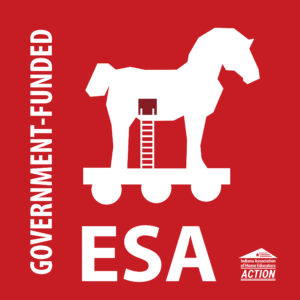 With government funds will come an increased burden in paperwork, reporting requirements, and regulation…and it will all increase regularly. There will be quarterly reporting requirements, individual account audits, and verification checks before a purchase can be completed.[4]
Homeschooling parents might have an urgent, unforeseen reason to need to put a child back in public school. Parents who take ESA funds in Arizona also sign an agreement to release the school district from all obligations to educate the student.[5] Besides what has been discussed regarding the cost of education a special needs child, there are many other concerns in this area. What if a parent takes ESA funds, then decides that homeschooling is not working for them? Or what if a parent contracts a serious illness and can no longer homeschool? What if a parent dies? What if there is a divorce and the parents cannot agree on schooling? What would the parent do with the student for the rest of the school year when there is no option to place the child in public school?
Nevada's ESA program has been tied in up lawsuits for about a year, and recently the Nevada Supreme Court ruled that the ESA program must find an alternate funding source.[6] Consequently, families have already been waiting for close to a year to be able to actually use ESA funds, and they will continue to wait until the Nevada legislature can obtain alternate funding.[7] There have been many lawsuits over ESA programs, so there could be many issues like this that come up as states adopt ESA funds. What will happen to students who are caught in the middle, with parents having taken and perhaps used a portion of the funds, then being unable to return children to public school?
Students who take an ESA may end up ineligible for future scholarships. Parents who take ESA funds in Arizona sign an agreement to not accept a scholarship under any of Arizona's tax-credit scholarship programs.[8]
If you take ESA funds, you might not be able to continue to buy religious curriculum such as Sonlight or My Father's World. Sonlight has already created Bookshark, a very similar curriculum that is basically the same as Sonlight, but without most of the religious study. This has allowed Sonlight to be able to offer an option to families who may have government-imposed restrictions on what they can purchase for homeschooling. This leads us in to the next lie…
[1] Fernanda Santos and Motoko Rich, "With Vouchers, States Shift Aid for Schools to Families,"New York Times, March 27, 2013, http://www.nytimes.com/2013/03/28/education/states-shifting-aid-for-schools-to-the-families.html. (Emphasis added).
[2] http://www.reviewjournal.com/news/education/private-school-parents-decry-education-savings-account-rule
[3] It would also be disruptive to the education of both public and private school students, by the way, as parents pull their children from private school and put them in public just for the 100 days in order to get ESA funds. The private school would have underestimated yearly enrollment, and the public school would have overestimated yearly enrollment. The public school cannot quickly shed the extra cost that was incurred when planning for all those students. The students themselves are disrupted because of a school change mid-year.
[4] https://www.edchoice.org/blog/new-study-shows-how-arizona-parents-spend-education-savings-accounts/
[5] https://www.edchoice.org/school-choice/programs/arizona-empowerment-scholarship-accounts/
[6] https://www.edchoice.org/blog/nevada-esa-litigation-need-know/
[7] Id.
[8] https://www.edchoice.org/school-choice/programs/arizona-empowerment-scholarship-accounts/
Lisa Yankey is a happy homeschooling mom of three, but she never expected to homeschool. Teaching runs in her blood – she is a former public school teacher, and her mother, father, and brother are all former public school teachers. During her childhood and as a teacher herself, she recognized many issues in public school. She went to law school at night in a long-term plan to help improve public schools. She used to believe that every child could receive a good and appropriate education from public school. She realized the error of this belief when she watched her own child suffering in public school. She began homeschooling shortly after her oldest child had a disastrous start to public school first grade, and she has never looked back.
She kept her career as a part-time attorney and works for herself as a sole practitioner, with a practice area in immigration law. She is known particularly for her representation of victims of domestic abuse. She continues teaching adults as a speaker on immigration law at continuing legal education events for fellow lawyers. Lisa resides in Noblesville, Indiana (Hamilton County). with her husband, three children, two dogs, and a cat.