This post is our eighth of nine installments regarding the transcript from the Indiana Advisory Committee to the U.S. Commission on Civil Rights hearing that was held on February 17, 2016.  You may read our other posts here, here, here, here, here, here, here, and here.
TESTIMONY: Pg. 215 MR. DOUGLAS: Thank you all. Principal Sanders, you mentioned that something like 500 kids went off to charter or parochial schools and something like 404 came back, and we have also heard from some earlier testimony that sometimes kids are sent — go off into a home schooling environment, transferred into that environment as an alternative to expulsion, sort of a way of getting them off the books it sounds like.
Have you — I guess it was sort of a question earlier, but are you saying kids coming back from a home schooling environment and are they coming back from a home schooling environment and what level of preparation, to what degree are they up to speed with their classmates? And then this sort of speaks to a much bigger question and that is Indiana is now sort of it seems nationally a leader or an advocate of choice in the voucher system, and the question is this choice environment, is it — do you feel that it is ultimately contributing to improvement in education or do you think that it is ultimately creating disruption?
MR. SANDERS: Excellent question, and sufficiently complicated. So 588 students, and these were students specifically going to charter or parochial schools, so this did not go into — plan to account for home schooling, which is another caveat, and 68.7 percent of those students did return back to us.
I think the situation that we are experiencing is that you are right, that is kind of the trend to move into the charter experience, but what happens is that we forget about the purpose of this public education situation, which was the center of the community in so many ways, and there is great value in this anchor that was the community school, and we have seen the fragmentation and the value for that unravel in my experience in nearly 20 years in South Bend Public Schools, I have witnessed that. I was at this school both as a teacher and as an assistant principal and saw a time when we had an enrollment of 1500 students and we were shining brightly.
Pg. 222 MR. DOUGLAS: On that topic of people coming — home schoolers or people coming back from alternative sources of education back into public schools, are you seeing whether they are returning at pace with their peers or behind? And I have to admit, I have anecdotal evidence from a principal in Kokomo years ago who was making a comment to me that kids were coming back from home schooling badly behind, I was curious whether that was just an anecdote or a bigger problem.
IAHE Action's Response: IAHE Action wondered if this was a problem, too, when we read this part of the transcript.  Originally we would not have been surprised if they did.  We assumed that those going from home school to public school may have enrolled because they had difficulty with home education.  We also assumed that perhaps the teaching style was different between one-on-one and the classroom of thirty students and may take an adjustment for the student. IAHE decided to ask families in a survey who enrolled their homeschooled child into public school. Here is what we learned: a few struggled, but the majority did not. They excelled.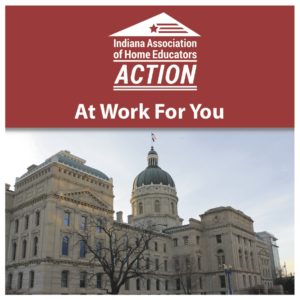 IAHE then wondered if public school students who switched to home school were behind? They asked  homeschoolers, and they wanted to share their stories. They decided to list them publicly on their testimonial page. As you can see, these students are thriving with our low regulations.
TESTIMONY: P. 241 Ms. Garcia: As a result, many of us spend hours writing grants so that we can buy the materials we need to engage our students. We need legislators to get out of our way so we can teach and do what's best for our students. We need more time to spend on character education, conflict resolution, and relationship building without feeling like we are not going to prepare our students to pass a myriad of assessments over the course of the year, including the ISTEP.
IAHE Action's Response: We agree! Legislators need to get out of our way, so we can teach. The fact we do not take any government money grants us the ability to do what we see fit for our students. Without taxpayer money, legislators cannot inflict upon our students the burdens it has levied on public school students, nor should it. As home educators, we know exactly what these teachers mean. Thirty-three years of an environment unencumbered by legislative mandates has allowed countless students to thrive.
TESTIMONY:  P. 243 We know that if the student is not in our room then they cannot learn. We also know that sometimes no one can learn because one student is in our room.
IAHE Action's Response: Many parents have chosen homeschooling for a variety of reasons. Home education gives options for those "other" children to receive one on one instruction and excel.
TESTIMONY:  Pg. 251 As a result of no child left behind over the course of my 18-year career as an educator in urban schools, I have seen the shift away from teaching children and toward teaching curriculum. Because of the pressure of tests, I am bound to a fast-paced curriculum map that crams a nine-month school year into five to seven months to get it all in before the ISTEP.
IAHE Action's Response: In a public school, someone else is teaching a child. The tests are reports to the parent about how their child is learning. These tests are accountability measures parents, legislators and the public use to monitor the value of their public tax dollars in education. As homeschoolers we are thankful we are not forced to cram nine months of lesson plans into five or seven months due to testing. Once again homeschoolers, free from government funding, are able to do what is best for the children we teach and not what the legislature mandates. Tests in the homeschool world serve a different purpose.
Homeschool parents are with their child each and every day giving one-on-one instruction. The primary instructor, or teaching parent, knows the strengths and weaknesses of each child. Testing in the homeschool world merely confirms for parents what is already known. Some parents give standardized tests or tests that accompany curriculum. Others simply observe their child completing lessons and know precisely how their child performed using the results to structure their future lessons. Homeschoolers are able to individualize each and every lesson to meet each and every child, which minimizes the need and impact of high stakes testing.