Here's a timeline of some issues that have affected Indiana home educators through the years. It's a reminder that our liberty to educate our children at home is precious and must be continually guarded. Thank you for standing with IAHE and IAHE Action.
1904 – Indiana has the nation's earliest homeschool court ruling in State v. Peterman. Essentially, the court said that a school at home is a private school. The court defined a school as "a place where instruction is imparted to the young. . . . We do not think that the number of persons, whether one or many, make a place where instruction is imparted any less or any more a school."
1980's –  Most Hoosiers thought that either, 1.) Home education was illegal, or 2.) Home education required approval from the State of Indiana, or at least the local school superintendent. Local school districts, truancy officers, and county prosecutors harassed homeschool families.
1983 – Indiana Association of Home Educators (IAHE) was founded by a Marion County judge, his wife, and two other couples to encourage and support homeschool families, maintain visibility as home educators with civil government leaders, influence the legislative process to protect our freedom to home educate, publish information of interest for home educators, and sponsor seminars and events to encourage families. It's one of the earliest state homeschool organizations in the nation.  
1985 – In Mazanec v. North Judson-San Pierre School Corporation a federal district court recognized that parents have the constitutional right to educate their children in a home environment. The court wrote concerning the qualifi­cations of homeschool parents that, "it is now doubtful that the requirements of a formally licensed or certified teacher . . . would pass constitu­tional muster."
1989 – A statewide meeting of superintendents was held with the goal of curtailment of home education. Local superintendents required an intrusive several page questionnaire to determine if homeschool families would "be allowed to homeschool." A federal civil rights lawsuit was threatened which slowly ended the practice after 3 or 4 years.
1994 – HR 6 required all teachers in America to be certified in each and every course they teach. IAHE joined HSLDA and other state homeschool organizations to defeat it with over 20,000 phone calls from angry homeschoolers.
1995 – President Clinton signed the UN Convention on the Rights of the Child. It is still waiting to be ratified by the Senate, and it will give a parent's rights to the government.
1996 – There was an unsuccessful attempt to add to law the following sentence, "Parents have the fundamental right to direct the upbringing of their children." It was met with great resistance and sent to an interim study committee where an IAHE Board member testified.
1998 – A federal law opened doors for homeschoolers to enter military service.
1998 – A day-time curfew was proposed in Columbus, IN. Homeschoolers and others fought it because it violated the 4th & 5th amendments to the US Constitution.
2003 – The Indiana "Education Roundtable" had a draft plan with the potential to dramatically undercut the ability of private school students, including homeschoolers, to choose their own curriculum, be admitted to college and get scholarships and financial aid. Homeschoolers' calls helped make satisfactory changes.
2003 –  The City of Mishawaka gave a homeschool parent these unlawful guidelines:   "Guidelines For Home Study," parents must:
1) Substantiate that they will provide equivalent instruction;
2) Initiate contact with the Indiana Department of Education (IDOE);
3) Obtain a "school number" from the Department of Education;
4) File a "notice of intent;"
5) Acknowledge that the notice of intent is binding for one year;
6) Disclose each subject the child will be taught;
7) Disclose the "performance objectives" for each subject;
8) Disclose the name, qualifications, and experience, of every
teacher; and
9) Submit a daily instructional schedule indicating how many minutes
are taught each day in each subject.
10) In case parents are not sure how much time they should spend
teaching their own children, Mishawaka thoughtfully provides
recommended time allotments. According to the collective wisdom of
their school officials, for example, a third grader should receive
precisely 105 minutes per week in "motor skills development and
health/safety education."
Homeschoolers refused to submit to the unauthorized requirements, and the city apologized for the distribution of obsolete guidelines.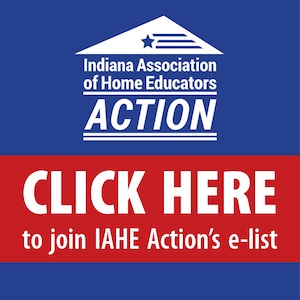 2004 – a Senate bill allowed the principal to refuse to consent to the withdrawal even if the parent intends to provide equivalent instruction.  "It would have given a principal the authority to refer the
family to a prosecuting attorney who will conduct an investigation against the family merely for the principal's "disbelief" that the family is providing their children with "equivalent" instruction to that given in the public schools. The family must prove to the
satisfaction of the prosecuting attorney that they are providing
instruction that is "equivalent" to the instruction provided in the
public schools. If not, the parent may be prosecuted for truancy.
Not only would this bill limit homeschooler's freedom to construe the term
"equivalent instruction," but it also gives a principal the power to
question a home education program's "equivalency" on his or her
impulse."
2005 – House Bill 1530 would increase the compulsory school attendance age from 18 to 19. This bill creates one more year of state "monitoring" of children. IAHE worked to helped remove harmful provisions in the bill.
2006 – House Bill 1347 made it a crime for your children to be out in public or drive a car during public school hours. Homeschool calls helped remove curfew provisions.
2006 – A Terre Haute Senator in a thinly-veiled attack on homeschooling asked the Indiana Senate to create a committee to "examine the need for establishing homeschool guidelines."
2007 – A bill required all private schools to report whether girls between the ages of 11 to 12 have been immunized against four types of the human papillomavirus (HPV) that are mainly transmitted by sexual contact. The bill was amended to exempt "homeschools".  It is a slippery slope to use the word "homeschool".
2011 – Indiana Supreme Court held in Barnes v. State that an individual has no right to reasonably resist by force the unlawful entry into his home by a police officer.
2012 – IN SB 384 House Amendment 3 required homeschool parents to
submit an educational plan before withdrawing their children from high school. Massive pushback from homeschoolers defeated the amendment.
2012 – A forum was hosted by the Indiana School Board
Association and the Indiana Association of Public School
Superintendents. Glenda Ritz, a candidate for the
Indiana Superintendent of Public Instruction, was asked, "Do you think 
policy needs to be changed on homeschooling?" 
Her response, "We don't have any policy on homeschooling in Indiana. We need some policy on homeschooling. It's actually being abused in many cases. I have heard of students being withdrawn by their parents to take care of an aging grandparent and getting absolutely no schooling at home. There are no regulations at all regarding it. So, yeah, we need some policy on homeschooling." The crowd erupted in cheers.
Although Indiana does not have a homeschool statute, home schools are classified as non-accredited, non-public schools due to case law as they are in many other states. Homeschoolers must provide an equivalent education taught in the English language, keep attendance records, and teach for the same number of days as their local public school which is generally 180 days.  If a parent does not provide this education, Indiana Code has educational neglect and truancy laws that should be enforced. All Hoosiers are mandatory reporters. If someone is aware of a parent that is not providing an education according to state law, he or she should report it instead of demanding increased regulations for law-abiding homeschoolers.
2012-2013 – "751,366 or 4.5 million. That is the number of instructional days and hours 102,030 students in Indiana lost during the 2012-2013 school year due to suspension and expulsion. Almost 1 in 10 students were suspended or expelled that year."*
2013 – Governor Pence mentions home education as an equal alternative to other forms of education in his State of the State address. "We have to put kids first and ensure that every child in Indiana has access to a world-class education at public school, public charter school, private school or home." Gov. Pence January 22, 2013
2013 – IN SB 171 was a grandparent/great-grandparent rights bill that allowed the courts to intervene in an INTACT family to determine who may have access to your children for visitation rights. IAHE testified against it, and the bill did not become law. Unfortunately, IAHE Action must continue to testify against it in future years.
2013 – IC 20-33-2-28.5 requires a high school dropout to lose his driver's license. The General Assembly told IAHE some families claim to "homeschool" in order to keep the student's license but actually do not provide an education. IAHE worked with the General Assembly to develop a form to be used only for those currently in a high school which the parent must sign that states he or she understands the legal requirements to provide a home education. The State will prosecute parents who falsely claim to homeschool instead of regulating all homeschoolers.
2013 – IAHE was invited to the Governor's office for a bill signing ceremony for efforts related to repealing Common Core in Indiana. Unfortunately, the new Indiana standards are remarkably similar to Common Core.  
2014 – An Indianapolis Metropolitan Police Department (IMPD) Southwest Taskforce Newsletter stated, "Please report children that you think should be in school. Call 911 and ask for an officer to check on the children. Truancy is a growing concern to all of us. We need to find these children and determine which school they should be attending." Needless to say, this advice alarmed many homeschool families. IAHE and HSLDA visited the IMPD Southwest, and our attorney spoke to the task force members about home education.
2014 – A bill was caught in third reading. The source of the language was frustrated public school administrators who struggle to fulfill their responsibilities in a declining market. The bill originated in a Local Government Committee and called for the "oversight of homeschooling." Rapid "behind the scenes" action stopped the bill in its tracks.  
2014 – The Interim Study Committee on Education met to discuss a federally funded preschool grant. IAHE was the only one to publicly testify against it and submitted a detailed report about early childhood education concerns with a particular emphasis related to accepting federal dollars for preschool. Governor Pence surprised everyone after the hearing when he decided not to apply for the funds.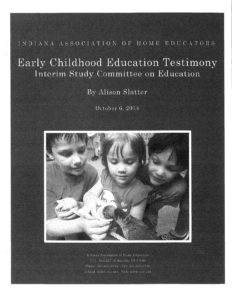 2015 – Fishers Adolescent Catholic Enrichment Society, Inc. (FACES) homeschool group received a final ruling from a discrimination case that began in 2008. The Indiana Supreme Court ruled 4-1 that FACES did not violate Indiana Civil Rights Code.
2015 – Families across Indiana received a letter from the state Department of Health informing them that their children had not been vaccinated against the Human papillomavirus (HPV). IAHE worked with the Governor's office to determine a parent may opt-out of the vaccination registry.
2015 – IAHE was invited to the Governor's bill signing of the Religious Freedom Restoration Act, but the law was amended a week later. Religious liberty is one pillar of home education liberty. Parental rights are the second pillar. Both are under attack.
2015 – In addition to its focus on education to help Indiana home educators have a solidly academic home school, IAHE as a 501c3 organization may do limited advocacy work. Over the past few years, IAHE noticed an uptick in threats to Indiana homeschool liberty, so IAHE Action, as a 501c4 sister organization, was formed to be able to do unlimited lobbying and a limited amount of political work to better protect home education liberty and parental rights.  
2015 – December 15, 2015 – IAHE contacted the Indiana Department of Education for homeschool numbers for the past five years: 2010 – 8318; 2011 – 8530; 2012 – 6983; 2013 – 5691; 2014 – 4257   Note: Due to voluntary and infrequent reporting the numbers of homeschools students are not 100% accurate.
2013-2016 – IAHE received a considerable amount of calls from parents who claimed the school reported their child as enrolled as a homeschooler and gave them IAHE's phone number.  After IAHE Regional Representatives explained homeschooling requirements to the parent, the parent decided home education was not a good fit for their particular situation. The parent was referred back to their school or the IDOE for other options. Were they ever removed from the Indiana Department of Education homeschool roster? We doubt it. 
Additionally, parents called IAHE and said the school signed them up for something, and they did not know what it was, but they were given IAHE's number to call.  Teens who wanted to homeschool but had no parental support called IAHE as well. Some had been expelled, and others told IAHE there is "too much drama at school to learn." IAHE referred them to their school or the IDOE for more appropriate options since home education is parent-directed.
2016 – During testimony for a School Choice bill in the House Education Committee, the principal of an alternative school in northern Indiana was there to testify and claimed that they are serving many needy students including "homeschool dropouts". The Indiana Department of Education (IDOE) has data that reports 10,000 students a year or 30,000 public school students for the past three years have transferred to homeschool.
2016 – An individual who testified at the School to Prison Pipeline hearing told the IAHE Director of Government Affairs: "If we can make homeschoolers register, teach them how to homeschool, monitor their homeschool, buy their curriculum and test them, homeschooling will work for the dropouts." 
Of course, that would be a total redefinition of home education here in Indiana where an engaged parent chooses to take complete responsibility for their child's education to avoid the government's involvement, so they can provide a superior education.
2016 – IAHE, IAHE Action, and HSLDA defended Indiana homeschoolers before the Indiana Advisory Committee to the US Commission on Civil Rights after testimony claimed the School to Prison Pipeline supposedly included "homeschoolers". Instead of expulsion or suspension that would harm a school's A-F grade, some principals encouraged students to "homeschool." In fact, we have since learned that each student who exits a public school is informed about every educational option including home education even though they may not be a good candidate due to lack of parental support. We are told a number of "homeschoolers" have ended up in correctional facilities.
2016 – IAHE Action was told a bill was drafted to require homeschool registration. Fortunately, it was not introduced.

2017 – In the House Education Committee, it is claimed that 13,000 students have exited the public schools to "homeschool" each year for the past three years.
The Indiana House and Senate Education Committees attempted to curtail the practice of schools pushing "problem" students into "homeschooling". IAHE testified about the phone calls their Regional Representatives received from parents who were inappropriately referred to IAHE to begin home education. They defended legitimate law-abiding homeschoolers.  
Schools now must provide proof, if requested by the IDOE, that the parent initiated homeschooling. For decades in order to avoid truancy charges, IAHE recommended a parent write a letter to the school when they transfer their child to home education. Since schools reported students' enrollment as a homeschooler without a parent truly comprehending the required legal responsibilities, it is now recommended the letter be sent certified and a copy kept in the permanent records at home as proof a parent actually sent it.
2017 – IN HB 1591 was an Education Savings Account voucher type bill which included homeschoolers. It was the "carrot to control". The concern was that it would encourage the practice of pushing problem students into home education since they would be "government-funded", and it would be the beginning of two classes of homeschoolers: state-approved and non-state approved. Indiana already had 50 cases of homeschool discrimination in 2016 and 37 in 2017.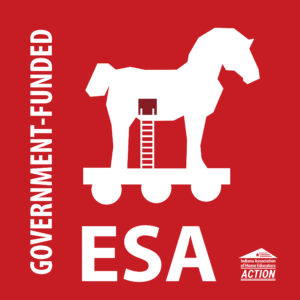 Parents could be "approved" providers. Although only vague additional rules and regulations were mentioned in the bill, it did not specifically mention assessments. The author of the bill posted on his Facebook page that there would be assessments to "make sure parents are giving taxpayers their monies worth." The bill did not receive a hearing due to the response of homeschoolers.
2017 – The IAHE Director of Government Affairs was offered a seat on the Commission for Improving the Status of Children in Indiana's Educational Outcomes Task Force because home education is often discussed particularly due to the School to Prison Pipeline issue. We are grateful the State has given home educators an opportunity to contribute our perspective as state agencies attempt to work through difficult issues.
Protecting homeschool liberty is a continual effort.
"If homeschoolers do not remain active, we will not remain free. It's that simple." ~ Michael Farris.
As a 501c4 organization, donations to IAHE Action are NOT tax-deductible.
IAHE Action is funded by our generous donors. THANK YOU for partnering with us to protect home education liberty in Indiana!
*Flier from the Children's Policy and Law Initiative of Indiana. Other information for this post was retrieved from eyewitnesses, The IAHE Informer magazine, the IAHE, HSLDA, and IAHE Action websites.