HEA 1384 Various Education Matters
Representative Robert Behning (R – Indianapolis)
This session, IAHE was asked to testify in the House and the Senate in regards to the "push out" problem where the public and some accredited private schools encouraged problem students to "homeschool" in order to protect the school's A-F state accountability grade. A legislator claimed in committee meetings that 13,000 students/year had reported enrollment to homeschool in Indiana. Schools encouraged a number of these families to "homeschool," even though the parent did not initiate it. IAHE has fielded many phone calls from these families who were classified by the school as a "homeschooler" and then given IAHE's phone number to help them get started. As IAHE Regional Representatives counseled these families, and the parent came to understand what is involved in home education, many parents decided home education was not a good fit for their family. It is unlikely that these students were ever removed from the homeschool classification.
In an attempt to curtail this practice, HEA 1384 contains language that prohibits a school from classifying a student as a homeschooler unless the school has substantial evidence that the parent or guardian of the student initiated the student leaving the public high school or an accredited nonpublic high school. The Indiana Department of Education may require the school to produce this evidence if it is ever requested. It will be important for the school to have evidence in writing that the parent initiated a transfer to homeschooling.
The State Board will also consider the mobility of high school students who are credit deficient, and whether any high school should be rewarded for enrolling credit deficient students or penalized for transferring out credit deficient students. We hope this bill helps to curtail the practice of pushing out credit deficient students, so they can receive the help they need. As strong proponents of homeschooling, the IAHE knows the work and dedication it requires. We also recognize that it is not the appropriate choice for all students.
HEA 1003 Student Assessments
Representative Robert Behning (R – Indianapolis)
This bill replaces ISTEP after June 30, 2018, with a new statewide assessment to be known as Indiana's Learning Evaluation Assessment Readiness Network (ILEARN). The original language in the bill required all students in public, charter, state accredited nonpublic, and voucher schools to take the assessment. The original language would have required any homeschooler who was enrolled for one class in a school listed above to take the assessment. IAHE Action worked with Representative Behning and Senator Kruse to amend the language to require full-time enrolled students to take the assessment instead of all enrolled students. Note that a homeschooler enrolled in a public school class must take the end of course assessment associated with the class.
HEA 1004 Pre-Kindergarten Education
Representative Robert Behning (R – Indianapolis)
HEA 1004 is a preschool bill that expands taxpayer funding for institutional preschool. It expanded the state preschool program to an additional 15 counties and added a possible option for an in-home technology-based program for pre-k.
This bill:
"Requires the department of education…to approve an early learning development framework for prekindergarten."

Develops a program to reimburse parents for technology-based, in-home early education services to a child. This program costs between $1,000 and $2,000/child depending if the family has internet access. (Homeschoolers informed us there is a similar preschool program that is free, and other programs that are much cheaper. Will these free/inexpensive programs continue to exist as companies see that they can instead choose to sell their software to the government for $1000 per child? How many parents will reduce their use of local libraries as they opt for an online program promoted by the state?)

This program uses personalized learning. The software assesses the child's progress at key milestones to determine what type of instruction each child will receive. The program includes a parental engagement and involvement component. From the program's website, it states, "Every family is partnered with a Personal Care Representative who monitors their child's progress throughout the year. Families will be contacted if their child's usage falls below guidelines."
Students who use the program will be required to be a part of a longitudinal study to determine achievement levels in kindergarten and later years. It must include a comparison of test and assessment results in grade 3 of the children who received in-home early education services; and a control group that consists of children who did not receive in-home early education services.
IAHE is concerned about the lack of long-term results from institutional preschool and particularly concerned about technology-based preschool. The increased use of taxpayer funding weakens communities by making it more difficult for those who take personal responsibility for teaching their own children to stay home on one income, and by replacing the use of libraries and local bookstores.
IAHE also has concerns about personalized learning via computer, especially for young children. Parents are fully capable of preparing their children for kindergarten without oversight. Families already have local libraries, which offer free books and multiple educational programs. We believe a parent who reads to his or her child on their lap will have better results than a child watching the pages of a book turning on a screen. We believe there would be long-term positive results if the State would encourage parents to prepare their young children for school without relying on institutional-based state support. Doing so would strengthen the family and strengthen our communities.
HEA 1005 Superintendent of Public Instruction
Speaker of the House Brian Bosma (R – Indianapolis)
Before January 1, 2021, the Superintendent of Public Instruction will be elected. HEA 1005 abolishes the office of the state Superintendent of Public Instruction after January 10, 2025. The governor will then appoint a Secretary of Education who will serve at the pleasure of and at a salary determined by the governor. This does not require a change to the State Constitution.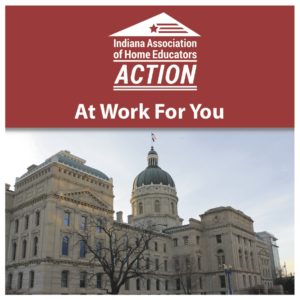 SEA 198 Career and Technical Education
Senator Ryan Mishler (R – Bremen)
IAHE and IAHE Action vigilantly watch for opportunities to prevent discrimination of homeschool graduates. SEA 198 presented an avenue to allow high school seniors or graduates of nonaccredited, nonpublic schools to have equal standing with high school seniors or graduates of other Indiana schools to apply for a high-value Workforce Ready Grant. The student must be enrolled in an eligible certificate program at Ivy Tech or Vincennes University at least half-time. They must be financially independent of their parents, not eligible for any state financial aid program, and maintain adequate academic progress. The applicant must not have previously received a baccalaureate degree, an associate degree, or an eligible certificate.
The amount of a high-value workforce ready credit-bearing grant is equal to the amount of the educational costs of the institution that the applicant is attending excluding other financial assistance. An applicant may use the high-value workforce ready credit-bearing grant only to pay the educational costs of courses required for the applicant's certificate program. The duration may not exceed the lesser of two undergraduate academic years; or the number of credit hours required by the eligible certificate program in which the student is enrolled. A high-value workforce ready credit-bearing grant may be renewed if the student maintains satisfactory academic progress while receiving the grant, and is enrolled in an eligible certificate program that requires more than twelve (12) credit hours or its equivalent.
SEA 175 Healthcare Consent
Senator Jean Leising (R – Rushville)
IAHE Action amended this bill to protect parental rights. This bill would have allowed a grandparent to sign a health care consent instead of a parent if a parent is not reasonably available. We believed the original language was not strong enough. IAHE Action included an amendment that stated one must first ascertain a parent, guardian or adult sibling is unavailable.
Nothing in this post shall be construed as legal advice.
To receive legislative updates via email during the legislative session, sign up here.